Between April 8 (which is today!) and May 8 we will be accepting your entries for the teen photo contest. For the details go here.
For more information on perfecting your photography skills: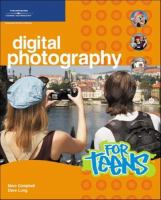 Digital photography for teens
by Marc Campbell and Dave Long
YA 775 C189d
Don't be fooled by the title. Digital Photography for Teens doesn't make a half-hearted attempt at teaching the fundamentals of digital photography. It doesn't stop at the basics and it doesn't assume that as a teen, you aren't capable of tackling advanced topics. Instead, it focuses on the things that teens want to get out of digital photography. Photography is a technical field, and this book covers numerous aspects of shooting great photographs. Each chapter builds upon skills developed in the previous chapters, following the natural process of digital photography: setting up the shot, taking the picture, transferring it to your computer, editing it, and prepping it for the screen or print. If you're ready to progress beyond snapping simple pictures, then your journey starts here!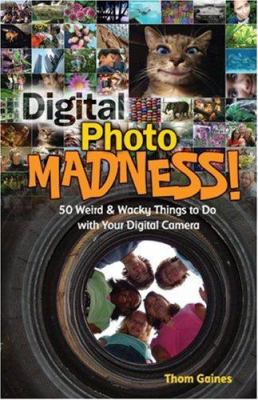 Digital photo madness : 50 weird & wacky things to do with your digital camera
by Thom Gaines
YA 775 G142d
Kids are crazy for digital photography: it's hip and it offers instant gratification. With this appealing, irreverent companion to The Kids' Guide to Digital Photography, children 10 years and up can go wild with the new technology. It explains everything a kid needs to know about digital photography, from using the camera to coordinating it with the computer, printer, and scanner to manipulating the images. Budding photographers can explore such fun topics as Cool Shots; Simple Photo Manipulations; Color Your World; Combining Photos; Majorly Manipulated; and Funky Photos. Then, armed with this knowledge, they can dive right into 50 cool, inventive activities and turn their friends into aliens, make a Warhol-esque pop art masterpiece, and create a "trapped-in-the-computer" screen saver!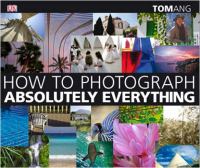 How to photograph absolutely everything : successful pictures from your digital camera
by Tom Ang
775 A581h
In How To Photograph Absolutely Everything by renowned photographer, author, and broadcaster Tom Ang, delivers exactly what the title promises. Avoiding intimidating technical jargon, he explains the basic elements of photography – light, color, composition, and focus – then goes on to show how to make them work for you. From still lifes to children's parties, thunderstorms to sunsets, close-ups to panoramas, every photographic subject, technique, and challenge is covered. Using step-by-step photographs and instructions, Tom shows you how to take the best possible picture in any situation. Want to photograph city lights at night, animals in action, a family portrait? Tom makes it easy. Employing a user-friendly "recipe" formula, he shows you the best approach for each subject, gives expert tips on improving an image, and tells you how to set up your camera – so you really can't go wrong. Inspiring galleries at the end of each section describe alternative techniques to try for every subject. There are also tips on basic post-production, showing how to crop, improve color and contrast, and remove unwanted elements of an image. How to Photograph Absolutely Everything guarantees to make a better, more confident photographer of absolutely everyone who reads it.